How much does pressure washing service cost?
Are you looking to pressure washing your property? Are the dark green stains on the outside of your house bothering you? Perhaps you've attracted unwanted attention from neighbors or HOA.
Don't worry, you don't have to spend thousands of dollars to re-paint your house. In fact, pressure washing will cost-effectively transforms your house back to the time when you first fell in love with it!
AVERAGE PRESSURE WASHING SERVICES PRICES
The cost of pressure washing services can vary depending on several factors, including the size of the property, the type of surfaces to be cleaned, and the location of the property. On average, homeowners can expect to pay anywhere from $200 to $400 for a professional pressure washing service.
However, some factors that can affect the cost of pressure washing a house or property include:
Size of the property: The larger the property, the more it will cost to pressure wash it.
Type of surfaces: Cleaning different types of surfaces, such as brick, stucco, or wood, can require different techniques and equipment, which can affect the cost of the pressure washing service.
Location: The cost of living and the cost of doing business in different regions can affect the cost of pressure washing services. In cities with a higher cost of living, the cost of pressure washing services may be higher.
Services requested: The type of services requested can also affect the cost of pressure washing a property. For example, adding additional services, such as cleaning decks, patios, or driveways, can increase the overall cost of the service.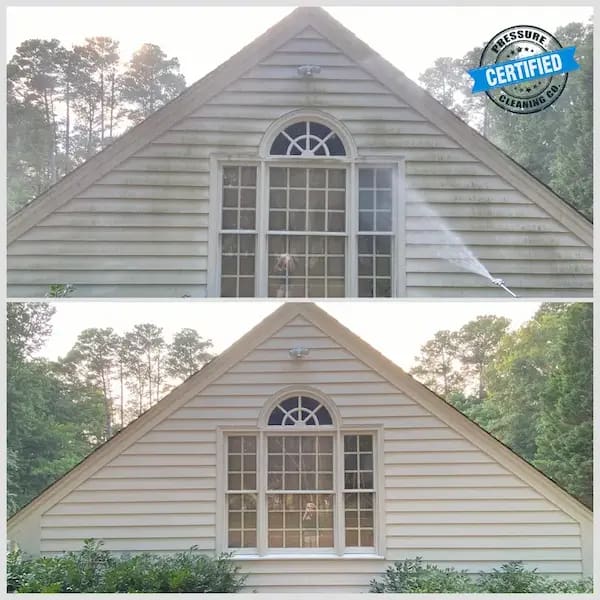 Softwashing reduces time and liabilities dramatically, thus customers could save money. 
SO WHAT IS THE PRESSURE WASHING SERVICE COST FOR MY PROPERTY?
So let say you are own a house in North Carolina, and your house has vinyl sidings. It is about 1500sqft, two story, and the highest point of the vertical wall is about 18ft from the ground. North side of your wall is covered with green & dark "stuffs". The residential houses of this size will typically takes about 1-2hrs for a professional pressure washing company to do a house wash. How much the pressure washing services for your house?
Unless you are hiring an individual who does not carry proper liability insurance or own equipments, you can expect the service to be around $250-$350 in NC. 
If you would like to to find an exact price for pressure washing, visit this page. 
It's important to obtain quotes from several pressure washing companies to compare prices and find the best deal for your needs. It's also a good idea to check the company's reputation, reviews, and credentials before making a decision.