We are #1 rated Pressure Washing & Window Cleaning company in Greensboro NC
Why House washing or building washing? It is the most cost-effective renovation for your home or property! Our house washing method called the "Softwash" technique will effectively wash and sanitize your house. It is the best house-washing method available in the industry. Just like a good carwash, it will bring back your house's original paint color to a like-new appearance. Quality of our house pressure washing in Greensboro is second to none! Thanks to our experts and the state of art high-tech pressure washer system!
In both residential & commercial projects, we use combinations of techniques and also use special treatments to clean and restore the conditions. With our technique and expertise, we will get rid of all the years of built-up dirt and algae while keeping your property damage-free. We provide the best pressure washing in Greenboro, NC.
AREAS OF EXPERTISE
Commercial Building Washing
Drive-Thru Cleaning
Tennis Court Cleaning
Brick/Stone/Asphalt Pressure Washing
Brick Efflorescence Removal & Restoration
Oil/Grease/Rust Removal & Restoration
Pool Deck Cleaning Services
Wood Color Restoration (including cedar siding)
Don't break your back while doing a driveway cleaning! Many people spend many days cleaning their concrete driveways or patio. Is pressure cleaning without the help of a professional pressure washing company worth it? Not really. Calculate the hours + physical stress on your back + a couple of hundred $ pressure washer that won't work next time(unless you properly care, the pump will go out during the winter). How much does it cost if you hire us? It could be low as $95 for a driveway cleaning with a house pressure washing!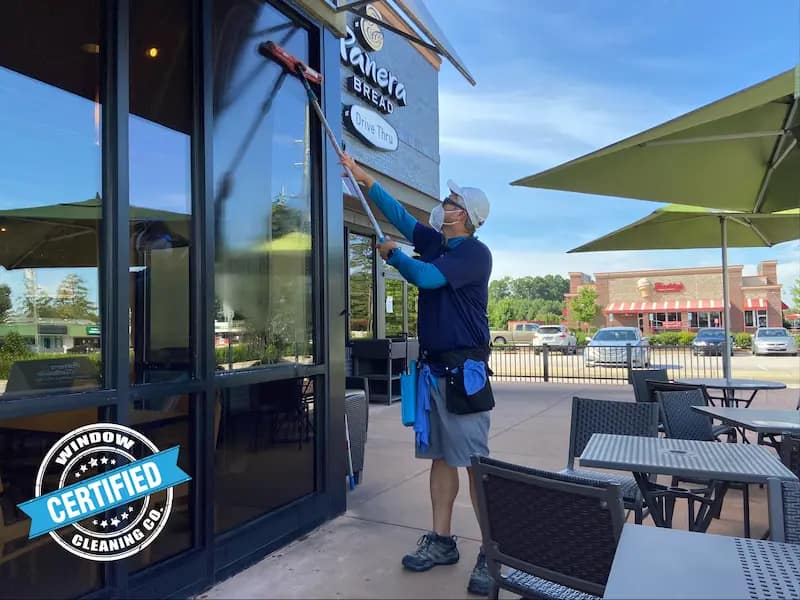 Storefront Window Cleaning
First impression matters! Create a great impression for your guests in your store even before they walk in with our window cleaning service. It's important that shoppers have a good idea of what you sell. Having a great storefront that is attractive and where customers can see inside before they enter so they can see what you are offering is paramount to success. Certified Window Cleaning Co. is a professional, fully insured window cleaner with extensive experience in cleaning and maintenance. We are great storefront support in Greensboro! We will give your storefront a clean, fresh appearance and keep your windows sparkling all year long!
Let's be honest, who has time to clean their windows? Yet, clean windows will bring light and create positive environments when you are stuck indoors all day! Certified Window Cleaning Co. is a professional, fully insured window cleaning company in Greensboro NC with extensive experience in cleaning and maintenance. We will work around your requests and be respectful toward your properties. We are highly rated by our clients because of our work habits and code of conduct. The de-Ionized water-fed window cleaning system is available as well as traditional window cleaning methods. We can also do restorations to restore the condition of your windows!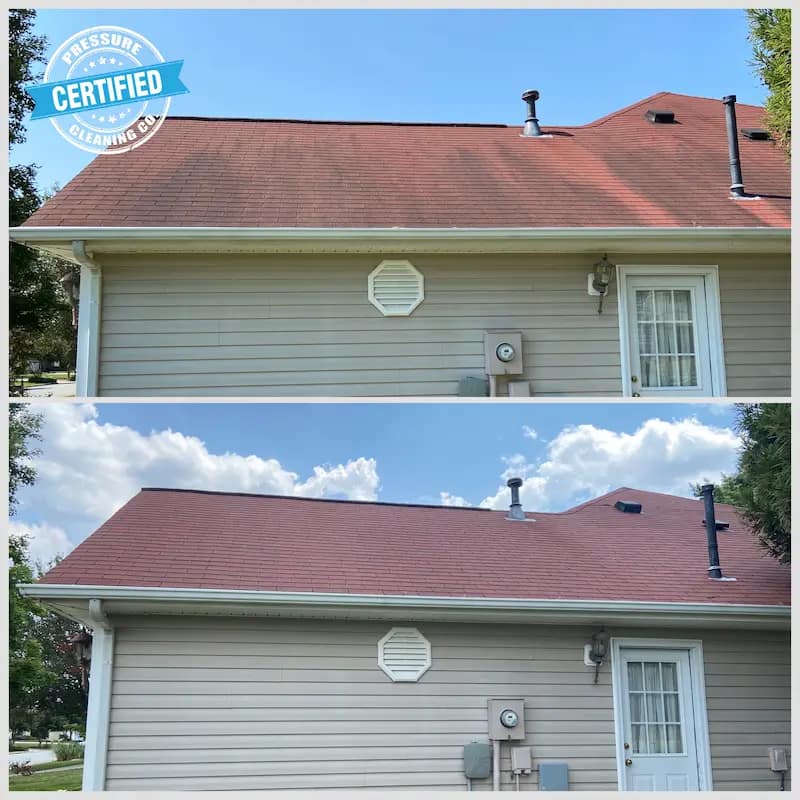 Are you doing the renovation on the exterior of your house? Or thinking about putting the house on the selling market? Your aged roof with discoloration or streaks may concern you or a potentially interested party. Before you spend thousands of dollars to replace your roof, please get our free estimate. You may literally save thousands of dollars while restoring the colors and condition of your roof.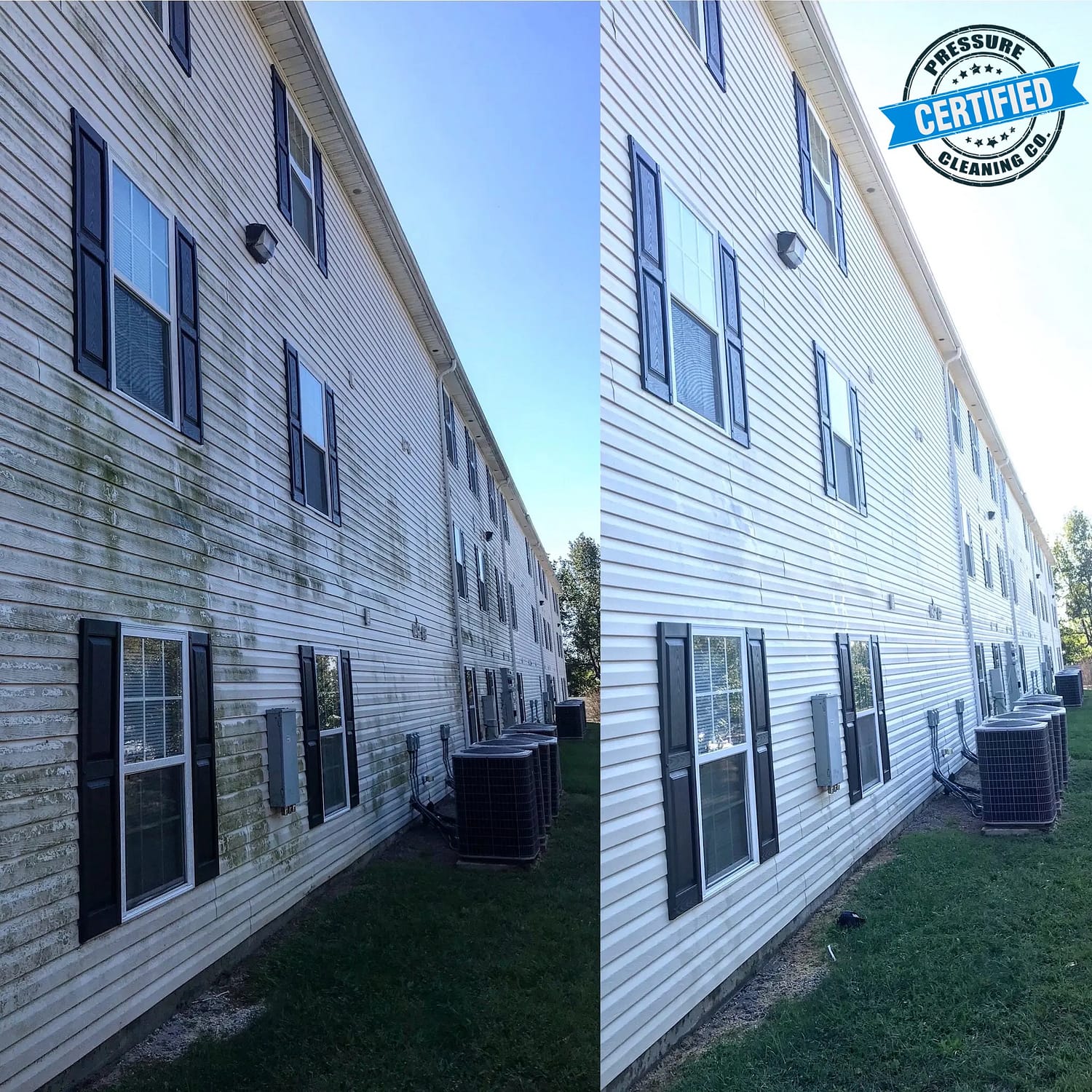 Relax and Enjoy a Stress-Free Experience with Our Expert Pressure Washing Services. You're not just looking for a run-of-the-mill cleaning. You want a team that can handle any dirty job that comes their way. Buckle up, because Certified Pressure Cleaning Co is ready to take on any challenge. From removing pesky graffiti to cleaning out your breezeways, multi story exterior walls and rooftops, we have the skills and expertise to tackle any job. We're all about customization, and we'll work with you to create a personalized plan that fits your specific needs. Let us show you what a true pressure washing pro can do!
Commercial Window Cleaning
Sunlight has a powerful effect on our emotions. Light improves our mood, energy level, and concentration. It can make you happier and help to keep depression at bay. In short, light makes us feel better, which you've probably noticed on those long, rainy, cloudy days in Greensboro. Certified Window Cleaning Co has been offering commercial window cleaning in NC for many years. We understand the value of clean windows and its effects, so we've made it our mission to ensure your windows are clean, allowing the light to stream in unhindered. If you are in need of commercial window cleaning, give us a call today.
What our customers say about us
W.L.
High Poin NC
Certified Pressure Cleaning did a fantastic job on our house. Our home looks new! Jason and Christy are easy to work with- great communication, excelent value, and punctual. We definitely recommend Certified Pressure Cleaning!
Eric W.
North Carolina
Awesome! They we're so professional, their quality of work was fantastic! They were on time and did everything at a fair price. Thanks again you guys, we are definitely going to call you guys back in the future!
Jason did a wonderful job pressure washing our porch. He was professional and so Respectful and we so appreciate the great job he did! He and Christie are both so caring and nice.
Jenn B.
Jamestown NC
I highly recommend this company! Jason arrived early, was in a clearly marked uniform, and was professional the entire time that he was here. He pressure washed my house, driveway, front porch, screened in porch, and cleaned the inside and outside of all of my windows. His attention to detail is unparalleled, his work ethic is beyond compare, and his prices are excellent. He did a fantastic job and I will use his services again and again.
Heather G.
Fayetteville NC
Very reliable, careful and conscientious workers! I can see out my windows again. No more blue film on them! Great job. Jason cleaned the mildew off of the front side of my house as well and it looks like new! I am a satisfied customer!
We will come out to your property and give you a free estimate!
Annual repeat customers get upto 30% off!